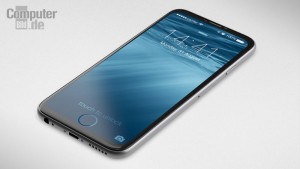 We're officially in the doldrums of the iPhone leaks cycle, which means that the best we can do is imagine what the device will look like through assorted concepts. Via Nowhereelse.fr, designer Martin Hajek has posted some gorgeous new iPhone 7 concept renders over at German website Computerbild.de that completely re-imagine the iPhone's iconic home button.
FROM EARLIER: Want to dump your iPhone and switch to Android? Here's everything you need to know
As you'll note in the picture above, the proposed iPhone's display actually encompasses the entire home button, which opens up more room for screen space. Interestingly, it looks like the home button is still an indented button like the one on the iPhone 6 and not just an on-screen digital button like the ones you see on many Android phones. However, it's more difficult to see when the display is on because it blends in with whatever you're looking at on the screen.
Source: Martin Hajek / Computerbild.de
You'll also notice that the speaker and front-facing camera on the top of the device are moved as far to the top as possible to make more room for the display. The side bezels are slimmer as well, so it seems that Hajek's goal with the design was to open up as much space for the display as possible. While we wouldn't be surprised if Apple's next iPhone did slim down its side bezels further, we'd be surprised if Apple had the display encompass the entire home button.
Nonetheless, this is a very impressive concept. Check out more renders over at Computerbild.de by clicking here.