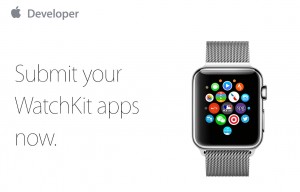 After select apps updated in preparation for Apple Watch last week, Apple has sent invitations to all developers for them to submit their apps and app updates for the upcoming wearable.
Apple Watch will be in the hands — and on the wrists — of Apple fans from April 24th but you'll start seeing more iPhone apps updating to support the small screen now that Apple has begun accepting all WatchKit submissions.
As part of the process, Apple is also pointing developers to its Apple Watch app submission guidelines which provides detailed information on how to prepare apps before they are filed for review.
Apple notes in its email that "a small group of people" currently have Apple Watches and will be able to use their applications as soon as they are approved — this likely includes Apple staffers as well as those who have been provided with review units of the device ahead of its April 24th launch.
Source: TodaysiPhone