Man summons his Tesla Model S using only his Apple Watch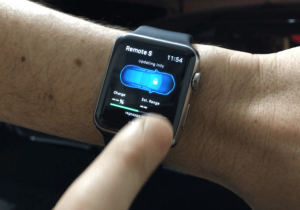 For a long time I've been skeptical of not only the Apple Watch but of smartwatches as a whole. However, a new video posted by YouTuber Mark Schey has opened my eyes to just how incredibly cool it can be to have a mini-computer on your wrist. In short, Schey summons his Tesla Model S by only using an app on his Apple Watch.
The app in question is called Remote S and it lets you start up your car using only Touch ID. In the video, Schey goes the app's GPS screen on his Apple Watch, hard presses on it, and then picks the "Summon Reverse" option. Almost immediately afterward, his Tesla sends a signal to open up his garage door. It then turns on and slowly backs itself out onto his driveway once the door has fully opened. The car then shuts the garage door back down after it's outside."Based on my limited testing, you still need to have the keyfob within range of the vehicle, but the Summon feature is 100% initiated by Remote S on the Apple Watch," Schey explains on his YouTube page.
Check out the whole video for yourself below.