Meet 'Cube': Your smartphone is no longer confined to the palm of your hand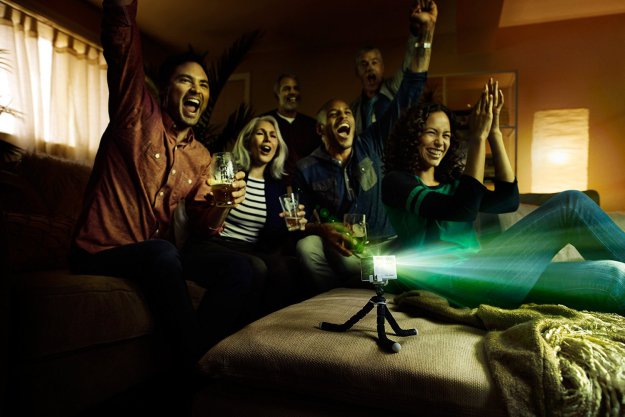 Smartphones have progressively gotten larger and larger over the years, and it's no mystery why. If you have more real estate, there's more you can accomplish and enjoy. You have more space to work, photos and videos are larger when you edit them, streaming movies are clearer because the picture is larger, and so on. But even the biggest phablet out there is still limited by the physical confines of its screen size… or is it?
RIF6 recently sent us a Cube 2″ Pico DLP High-Res Mobile Projector to test, and it might just be one of the coolest smartphone accessories we've ever laid eyes on.
This tiny aluminum cube is just 2″ square and it looks and feels like a premium device. It connects to your smartphone via miniHDMI and can project a 120″ display. Do you know how much a 120″ television costs? Start at $130,000 and work your way up from there.
Can you imagine having something this cool in your bag. In fact, forget your bag because the Cube can even fit in some pockets.
The Cube connects to any Android phone out of the box and it can also connect to an iPhone with a special Lightning adapter you can purchase on Amazon. Trust us, it's well work it — this thing is awesome.
Here are a few more highlights:
MEET THE CUBE — The CUBE though small in name is designed to make a BIG impression by turning virtually any setting into your own entertainment environment. The CUBE is great for: home cinema, office, education, entertainment or anything else you can come up with. Equipped with its own speaker, internal battery and SD card reader, the CUBE is a completely autonomous projection unit that can instantly bring any room or space alive with light, colors and sound!

THE CUBE IS YOUR SMART PHONE'S DREAM COME TRUE: Removing the frustrating limitations imposed by the size of your screen you can now: share your favorite media on the go, project your pictures, play your games and even stream movies directly from your Smartphone, Tablet or Laptop to a 120″ display on any wall or ceiling around you — all with crystal clear and vibrant video!

The CUBE's single piece aluminium casing is built to be durable so it can withstand continually usage and look sleek and modern while doing it. It weighs less than a regular piece of fruit and is a powerhouse at just 2″ cubed. So whether it is for work or play, your CUBE can immediately transport any setting or environment into a personal or professional presentation center. With this type of flexibility and freedom… WHERE WILL YOU TAKE IT?

LONGEST LASTING LED LIGHT SOURCE — Our proprietary LED digital based light source shows picture in stunning color and clarity. Unlike conventional lamp-based projectors, our LED Lamp can last up to 20,000 hours. That means you could watch 1 full-legnth movie evey day for the next 20+years with your CUBE lamp still shining bright.

The CUBE is built on and powered by marvelous engineering including the latest advances in LED and optical lense technology. Connectivity: Micro SD, MHL & HDMI, Native Resolution 854×480 (WVGA), Throw Ratio 1.99:1 Dist/Width, Video Input up to Full HD 1080p, Dimensions 2″x2″x1.9″, Brightness Full 50 Lumens.
The Cube 2″ Pico DLP High-Res Mobile Projector costs $279.00 on Amazon, and it includes  free Prime shipping