Yet another feature Samsung's Galaxy S7 stole from the iPhone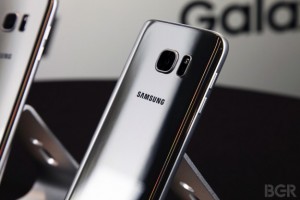 By modeling its mobile user experience after Apple's, Samsung was able to propel itself to the top of the smartphone market. No rival company ships anywhere close to as many handsets as Samsung each quarter. Samsung smartphones might not excite users en masse as much as they did for a period of time, but tens of millions of people still purchase them each year.
In 2016, an interesting new trend is taking shape: Apple's rivals, Samsung included, stopped copying the iPhone. Well, almost.
The smartphone industry has been a game of back and forth for the pat few years. Apple releases a new iPhone that copies some key Android features and adds on some new functionality of its own. Then Android vendors copy those new features and add on a few more of their own. And so on, and so forth.
But at this year's Mobile World Congress trade show, we couldn't help but notice that the three biggest smartphone announcements focused on phones that brought something new to the table.  Instead of copying the iPhone 6s' key features and piling on a few more, they offered original functionality and even some innovation.
For the most part.
The first feature is once that we have already discussed: Live Photos. Apple's iPhone 6s records short videos at a low frame rate each time a still photo is captured. Then if the user presses firmly on the photo in the gallery, the accompanying animation with sound will play. As we noted, Samsung built a similar feature into the Galaxy S7, but a tap on a small icon plays the animation since the Galaxy S7 is not equipped with 3D Touch.
Well, it turns out that there's a different iPhone camera feature that Samsung aped.
As noted by Samsung news blog SamMobile, Samsung built another iPhone 6s feature into its Galaxy S7 and Galaxy S7 edge smartphones this article. Apple's latest iPhones have a new feature that illuminates the display when users take a selfie so that it acts as a makeshift flash of sorts. Well wouldn't you know it… the Galaxy S7 and S7 edge sport the same feature.
Apple wasn't the first company in the world to create a selfie flash. A few apps like Snapchat have had a similar feature built in for some time now. The timing of Samsung's selfie flash rollout speaks volumes though, and it's the latest coincidencein a long, long line of similar coincidences.